Automotive Technology is The Future and is Here to Stay
It was only the nineties where we had cars that required the windows to be manually wound down, insert the car key into the door to lock and unlock it, start the car with a key, physically control and park the car yourself, brake assist was not heard of before. Today, we have automotive technologies that are capable of detecting the brake force distribution, high tech radar detection systems, computer activated engine systems and advanced fuel technology available that has forever changed the future in automotive.
The technology in cars has changed rapidly over the last decade, so much that the role of the mechanic has changed to include duties of a technician. With driverless cars racing to be developed, the demand for automotive technicians will be set to intensify over the coming years.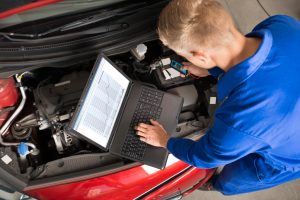 In fact, nationally there are more than 27,000 jobs unfilled in the automotive industry and figures are set to rise next year. Automotive technicians, mechanics and panel beaters make up a majority of the automotive trades skill shortage with repair and maintenance sector unable to fill positions mostly due to applicants being unsuitable for the role.
Therefore, demand in Australia in the car and automotive industry is experiencing a time to drive up growth in the automotive sector. Apprenticeships and traineeships are available across all roles in the car industry and are expected to grow alongside the rapid changes in automotive technology well into the future.